An exciting new masterplanned estate conveniently located in Horsley Park, just minutes from the M7 Motorway and Wallgove Road. On completion the estate will provide a state-of-the-art distribution hub for western Sydney.

Timeline

2010
Western Sydney Parklands Trust releases the Plan of Management 2020 abd Supplement 2014 allowing for 2% of the Parklands to be leased for development of business hubs
The hubs are expected to generate 8,800 jobs for Western Sydney

2017
Department of Planning grants development SSD 7664 consent for:
Construction of maximum floor area 88,700m2 of general industrial, light industrial, warehouse and distribution and ancillary office land uses
Amending the site levels,
building envelopes constraints
road layouts and site access arrangements
landscape designs

2018
Charter Hall entered into a Development Agreement with Western Sydney Parklands Trust, granting it the rights to develop the land over Horsely Drive Stage 2

2020
Charter Hall is applying to modify SSD 7664 in order to alter:
Consolidation of two warehouses into one
the site levels
road layouts and site access arrangements
Landscape designs
Concurrently Charter Hall is seeking approval for the Development of the first warehouse. The development application will assess the operational impacts on the surrounds:
Operational air quality
Operational noise management
Sustainability of the site
Economic and Social Impact on the area
Traffic including carparking and access
Planning Next Steps
In early 2020 Charter Hall is intending to lodge both the modification and the first Development application with the Department of Planning. All associated plans will be then released by the Department of Planning for comment by the public. Once released the documents can be found at:
www.planningportal.nsw.gov.au/major-projects
Comments on the submission must be submitted formally through the Department's website.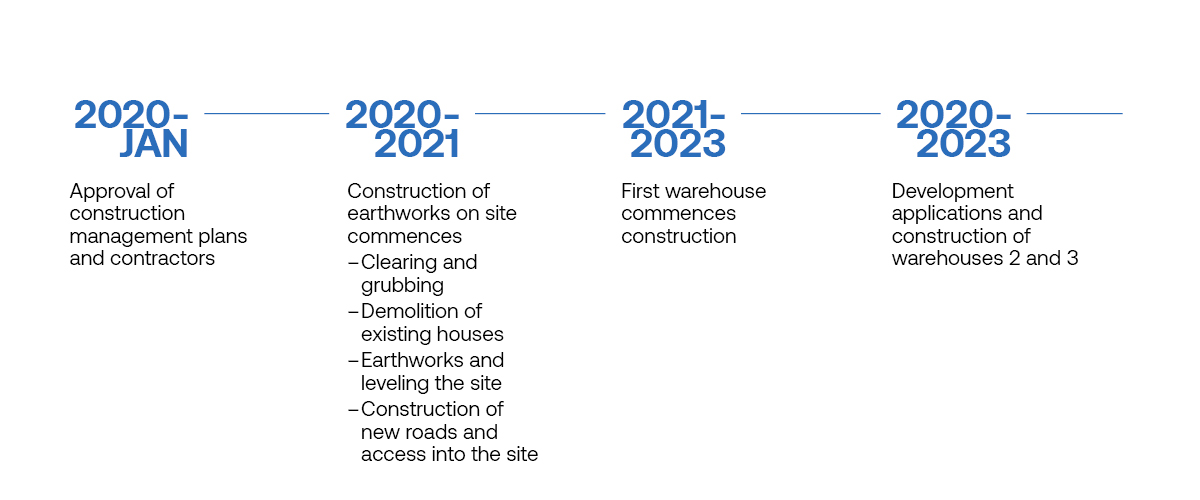 Construction Update

Below are the indicative overall construction time frames planned for the site.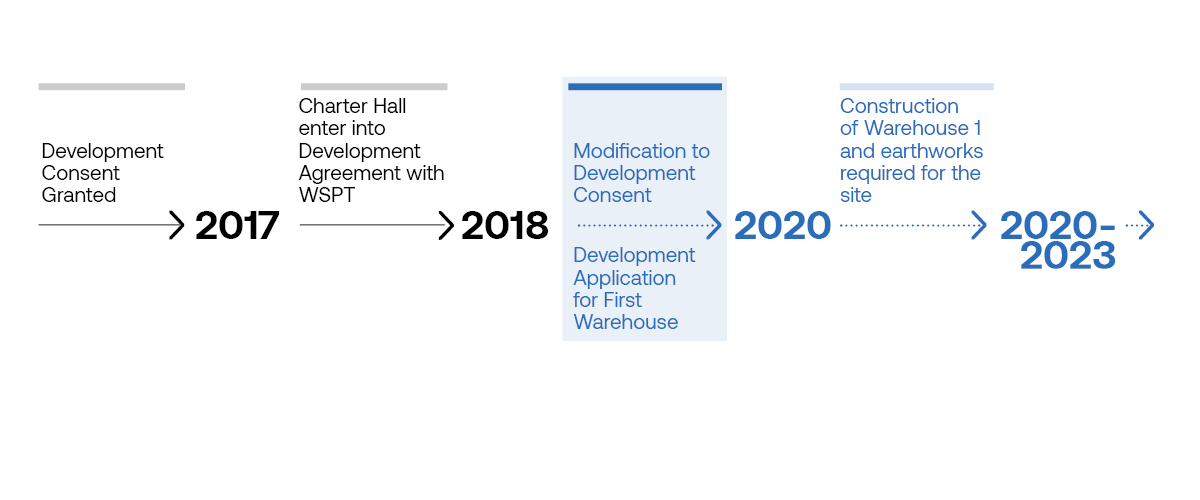 Managing Construction Impacts
Noise
Contractor's working on the site will be asked to manage construction noise throughout the project duration. This includes
regular updates to the community on planned noisy works
monitoring of noise levels where required
Ensuring construction methodology minimises noise intensive activities
Works are to only take place within construction working hours:

7am -6pm Monday – Friday
8am -1pm on Saturdays
Dust
To minimise the impact of dust contractors will be required to cover or vegetate exposed surfaces as soon as practicable. When not possible exposed surfaces are to be wetted down or treated so as to prevent dust. Construction access are to be well maintained and swept tracking of dirt and dust onto the road network is minimised.
Traffic
No parking is allowed on the public road network with all parking maintained on site. Access is only to be through designated site accesses with all deliveries taking place during working hours. Dedicated access points have been assessed and certain movements are restricted during morning and evening peak to prevent impacts to the surrounding road network. The community is also to be notified of road closures and detours which may be required as part of the works.